The Story of the OREGON STREET GARDEN
The Oregon Garden was one of the first garden sites which the Urbana Permaculture Project worked on. The project started in Fall 2000, when Sarah Kanouse and Sascha Meinrath had the site written into their lease. At that time, the site was an empty lot on the North side of Oregon St between Race St & Broadway Ave. They invited the Urbana Permaculture Project, then young and nameless, to develop a community garden there the following spring. At the time, the lease (which ran upto August 1 2002) seemed endlessly long, so we planned a first year transition to Permaculture with perennial fruit trees, annual vegetables, and some soft fruits including strawberries, raspberries, & currants. In April 2001, the Urbana Permaculture Project hosted a design charette with some neighborhood folks as part of a "Permaculture Intensive" with the School for Designing a Society. (see the brainstorm from the design charette)
Our ideas for how to develop a community garden were far out, and, we decided, best to be tried after we liberate the garden from a finite lease. Or after the revolution, whichever came first. For the meantime, we set up a manicured perennial/annual garden with edible species, designed to avoid controversy with the landlord.
Annuals were mulched around the perennials. The effort was led by Sarah and Sascha, who invited people to meet weekly & help out. The garden erupted with productivity: there was a bumper crop of tomatoes and daikon radishes, zucchinis, collards, and 16″ sunflower heads. A large red bench in the shade invited visitors. Neighborhood children played in the garden and "fluffed up" the mulch piles. Neighborhood people expressed their appreciation, welcoming the change of scenery and free produce. In August, we hosted a barbeque by the wall of giant sunflowers.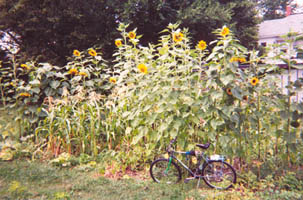 (see pictures of the Oregon St. Garden 2001.)
Regretably, no effort was taken to ensure the legal continuation of the garden past the expiration of the lease August 1, 2002. Thus, plans for a perennial planting in 2002 were begun with
trepidation. The final proposal was modest.
As work began in spring 2002, it became increasingly clear that the landlord was hostile to the garden because of it's appearance (which we considered beautiful) & because it attracted gardeners that were not his tenants. We responded by inviting more people to help maintain the garden, which all along we had considered a community garden. The landlord responded, in turn, by applying herbicide to some of the plants.
| | |
| --- | --- |
| | Herbicide sprayed on the compost bin! |
This was a flagrant violation of the lease on the site. The optimistic description of this ecosystem (which we considered a garden) was that the herbicide missed the bulk of the perennial plants….. we avoided further landlord conflict & quietly transplanted the most valuable perennials (elderberries, currants, plums, pawpaws, and prairie plants) to more permanent locations.
The lease expired August 1 2002 and the landlord refused to renew.
August 16 2002: landlord tore down a garage on the west side of the garden, destroying about one-third of the garden in the process.
| | |
| --- | --- |
| | Picture of some of the destruction. |
Species list last updated September 1, 2002.
Project finished.